WELCOME TO THE ROSSLAND FIGURE SKATING CLUB!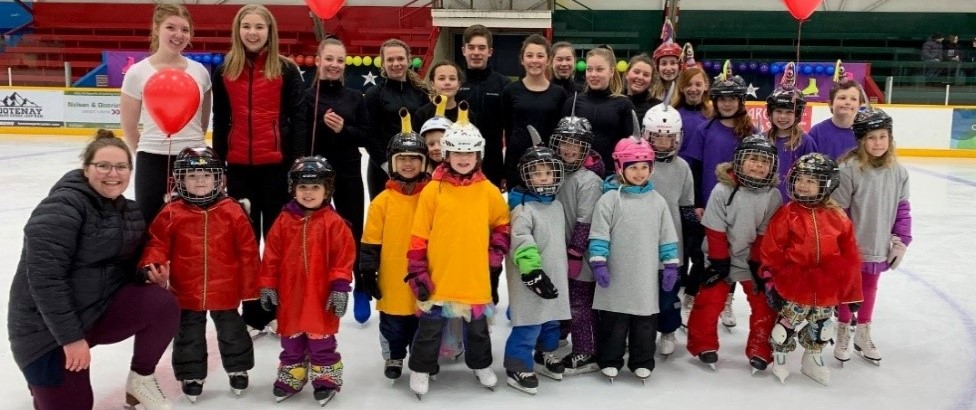 Welcome!
We are the Rossland Figure Skating Club, a non-profit society run by a volunteer Board of Directors out of the Rossland Arena.
Registrations will open on September 25, 2020 and will all be done thru the website!
We will be following the COVID-19 safety guidelines and procedures that have been set by Skate Canada BC/YK and the City of Rossland.
Please be aware that these guidelines have set limited numbers of skaters allowed on the ice at one time, as well as limited numbers allowed in the arena.
Registration will be for the full season from October 26, 2020 – February 26, 2021.
CanSkate Covid-19: Skate Canada BC/YK has directed our local clubs to only accept CanSkaters that are currently at a Stage 2 level and above. (At Stage 2 all skaters must be able to skate on their own and get up on their own if they fall. It is beneficial if they can skate forward & backward, glide forward, stop, 2-ft jump and turn on 2 feet). This will be in place for the foreseeable future. If these protocols change, we will put notice on the website and on our Facebook page.
We are limited to 20 skaters on the ice (including skaters, coaches, PA's and volunteers). We are also limited to a maximum capacity of 50 people total in the arena at one ice booking (including skaters, coaches, PA's, volunteers, parents and spectators). Please limit only one parent/caregiver to assist your child if required at all skating sessions to adhere to these limitations.
MASKS: Please note that under the guidance of Skate Canada BC/YK masks and gloves are mandatory for coaches and PA's at the Canskate level. We ask that all skaters and parents/caregivers wear a mask in the dressing areas and hallways where participants are getting ready. For the skaters masks are worn up to the time participants proceed to the ice session and as soon as returning from the ice session.
**New this season: ADULT SKATING LESSONS!
Looking for adult learn-to-skate lessons? Want to learn to skate better? This is the class for you! Multi-level, multi-age class for all skill levels. Learn at your own pace and at your own ability. Come out and have fun!
Adult skating is growing in popularity and more and more clubs are offering recreational, test and competitive opportunities to this segment of the population.Equipment requirements include:
CSA approved helmet for beginner skaters, skates (either hockey or figure skates), gloves/mitts, warm clothing/layers.
Email rosslandfsc@gmail.com if interested, or register online at rosslandskating.com.

Registration Details:
All registrations must be online through our website at rosslandskating.com.
If you have any questions please email us at rosslandfsc@gmail.com.
All skaters must be registered prior to going on the ice.
There is an annual Skate Canada membership fee of $43.65 required by all skaters. This fee is included in the online registration fees.

Canskate fee: $270 (includes program fee $216.75, Skate Canada fee $43.65 & registration fee $9.63).
Rising Star fee: $375 (includes program fee $318.00, Skate Canada fee $43.65 & registration fee $13.38).
Adult fee: $215.00 (includes program fee $163.68, Skate Canada fee $43.65 & registration fee $7.67).

There will be an Assumption of Risk and Waiver Form required to be signed at registration.
Detailed information will be sent out to all members describing the Covid-19 safety procedures and guidelines developed through Skate Canada BC/YK and the City of Rossland.
If you have any questions please email us at rosslandfsc@gmail.com.